CP-GTC-T24L3
2.4 MP Astra Full HD IR Metal Bullet Camera – 30 Mtr.
Price : 3,500/-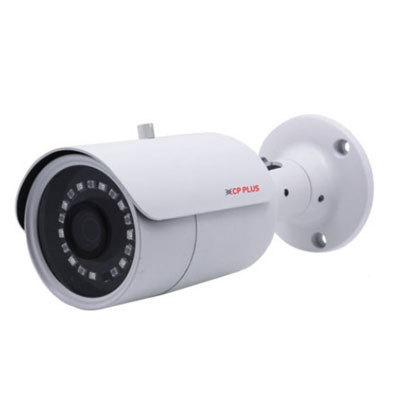 1/2.7″ 2.4MP HD Color Image sensor
25/30fps@ 2.4MP
Day/Night(ICR), AWB, AGC, BLC
Plug-n-Play HD/SD Camera
6 mm Lens
Equipped with fine IR LEDs for clearer night vision
IR Range of 30 Mtr.
Compatible with HDx, AHD, HDCVI, CVBS and HDTVI DVRs
IP66
Image Sensor1/2.7″ 2.4MP HQIS Pro Image Sensor
Minimum Illumination Color(0.1Lux),White and Black(0.01Lux IR LED On)
Shutter Speed1/50s(1/60s)-1/100,000s(Auto/Fixed)
AGC control Auto
White Balance Auto
Back Light Comp Auto
Lens6mm
S/N Ratio≥52dB
Resolution2.4MP @ 25fps
Video Output1.0Vp-p Composite Output (75Ω / BNC), HD-AHD(1080P)\ HD-TVI(1080P)\ HD-CVI(1080P)\ CVBS, AHD Default setting
ICR Support
IRIR Range of 30 Mtr.
No. of IR LEDs 36pcsφ5mm
Operating Temperature-20°C~+55°C
Humidity10% ~ 90%(humidity)
Power SourceDC12V(+/-10%)
Power Consumption0.4W(2.5W after IR LED Powered on)
Weatherproof StandardIP66
Dimension170mm x 65mm x 65mm
Weight0.35Kg.